SAELA T107 Turnstile Gate:
Saela T107 turnstile gate is a universal type of tripod turnstile that can be used in broad-spectrum of applications and environments. Modern design, safe and effective operating in combination with high-quality constructive processing are the main features that make Saela turnstile necessary part of access control systems and persons identification. Turnstile gate is made by the most modern technology.
Saela T107 turnstile gate motorised version is characteristic by its high comfortable, reliable and maintenance-free running:
Features & Benefits:
effective blocking system in combination with motor-driven unit
automatically adapts the turning speed to the users
Silent and fluent running
possibility to set smooth final phase of rotation
Product Properties:
Technical Plan:
Support and Warranty:
All products of SAELA Industrial Group have 2 years warranty.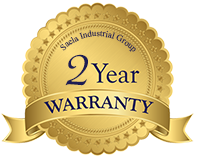 Files:
Gallery: